This page is dedicated to components from friends of DMC
By clever and duplicitous correspondence, the Elves managed to trick one of our friends into donating a rejected
luggage rack to their cause. For this the Elves are thankful as well as hopeful--thankful for the rack and hopeful
that more loot will appear.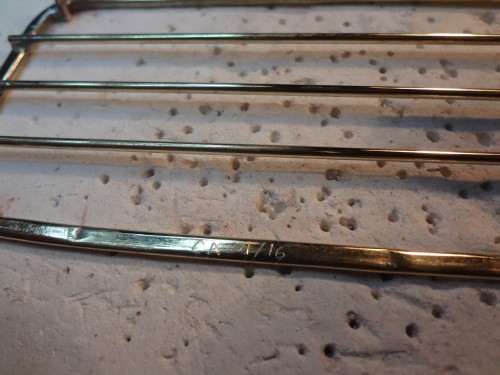 As proof of the Elves' integrity, they offer this photo of the rack after having been
polished for several hours. Even after that investment of work, the Elves sign
their friend's initials and the date. The Elves are saints.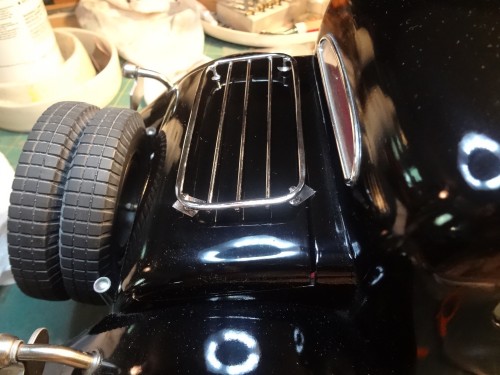 Positioned on old number 1, the very first Bugatti built by the Northern Elf and the
beginning of Model Motorcars and all that that became, the rack begins to look
like something. (Fussy viewers will probably object to the light flares in the shiny paint, but
the Elves are very busy. Very, very busy. Besides, light flares are only a problem with shiny
paint jobs.)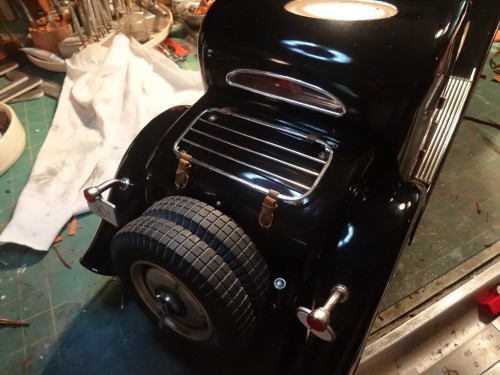 With feet padded with leather and a pair of dandy leather straps with
scratch-built brass buckles, the rack finally looks like something. The plating
was done by the Elves with their trusty home plating system, Clearly, the Elves
saved the day and prevented this doohickle from being cruelly cast aside by an
insensitive builder. It might be too much to call the Elves heroic, but it would not
be far from the facts of the case.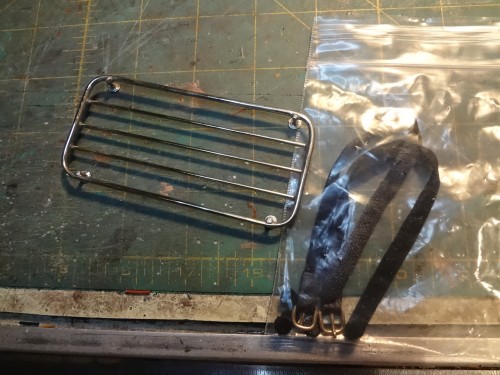 Our friend's second try at building a luggage rack was given a magnificent chrome job
by the Elves as well as a lovely set of custom belts with scratch-built brass buckles.
It remains to be seen if our friend can manage to install this work of art
on his current project. Notice that there is no dust on the rack in this photo.